Exchanging knowledge within a community of practice: toward an epistemology of practice in Occupational Therapy paediatric hospital care/Compartilhando conhecimento em uma comunidade de prática: para uma epistemologia de prática da Terapia Ocupacional no cuidado hospitalar pediátrico
Resumo
Objective: This research proposed the creation of a community of practice (CoP) with the objective of: (i) analysing the feasibility of a CoP as a means of generating knowledge among occupational therapists and (ii) investigating the practice of occupational therapy with hospitalized children and adolescents. This article privileges the results of one of the predominantly discussed themes - the use of assessments and strategies of evaluation in Occupational Therapy in the hospital context. Method: A participatory action research study was undertaken with nine occupational therapists in face-to-face meetings combined with virtual tasks on an on-line platform. A hermeneutic and dialectical method was used to interpret the results. Results: The CoP produced practical knowledge about the use of assessments with hospitalized children and adolescents and demonstrated to be a strategy of knowledge development through dialogue and collaborative reflection on practice. Conclusion: Research on the implementation of communities of practice offers a promising approach to the production of knowledge in occupational therapy. The generated knowledge is representative of occupational therapists' experiences and demonstrates an example of an epistemology of practice.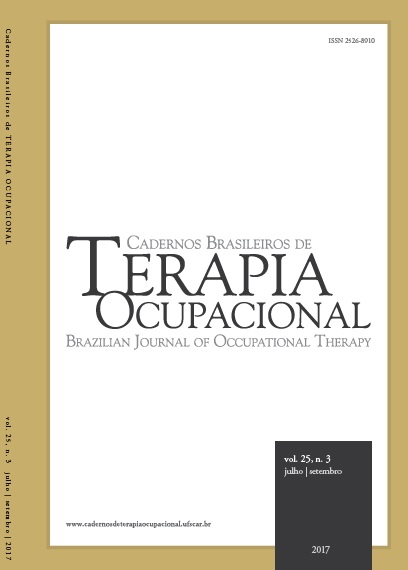 Downloads
Como Citar
Galheigo, S. M., Braga, C. P., Mieto, F. S. R., Parreira, F. V., Sarmento, G. Q., Motta, M., Silva, M. C. A., Santos, M. F., Spinola, P. F., Serpa, R. B. L., Mitre, R. M. de A., Lagôa, T. dos R. O., Oliveira, T. A., Santos, W. de A., Magalhães, L., & Kinsella, E. A. (2017). Exchanging knowledge within a community of practice: toward an epistemology of practice in Occupational Therapy paediatric hospital care/Compartilhando conhecimento em uma comunidade de prática: para uma epistemologia de prática da Terapia Ocupacional no cuidado hospitalar pediátrico. Cadernos Brasileiros De Terapia Ocupacional, 25(3), 449–459. https://doi.org/10.4322/2526-8910.ctoAO1119
Licença
Este trabalho está licenciado sob uma licença
Creative Commons Attribution 4.0 International License
.
O periódico Cadernos Brasileiros de Terapia Ocupacional/Brazilian Journal of Occupational Therapy é publicado conforme o modelo de Acesso Aberto e optante dos termos da licença Creative Commons Attribution (CC-BY), disponível em http://creativecommons.org/licenses/by/4.0/.