Cross-cultural adaptation, face validity and reliability of the Model of Human Occupation Screening Tool to Brazilian Portuguese/Adaptação transcultural, validade de face e confiabilidade do Instrumento de Identificação da Participação Ocupacional do Modelo de Ocupação Humana para o português do Brasil
Resumo
Introduction: The Model of Human Occupation Screening Tool (MOHOST) was developed in the UK and measures the occupational participation. Until its translation, there were no standardised instruments in Brazil of a similar nature. Objectives: To describe the translation and cross-cultural adaptation process of the MOHOST for Brazil, its face validity and test-retest reliability among occupational therapists. Method: A translation agreement was established allowing the assessment to be translated and honed after a back translation. An expert committee was formed of ten occupational therapists to test face validity of the instrument with 50 occupational therapists. Statistical analysis was employed to investigate whether the occupational therapists' understanding of the MOHOST was linked to their length of clinical experience. The test-retest reliability was examined among a sample of eight adults with physical disabilities. Results: The cross-cultural adaptation of the Brazilian MOHOST has been completed. A significant correlation (p=0.04) was found between years of professional experience and greater understanding of the MOHOST items. The MOHOST presented very high reliability in the test-retest (r>0.900). Conclusion: A Brazilian translation of the MOHOST has face validation and test-retest reliability. Future studies addressing this instrument's psychometric properties of validity and inter-rater reliability are recommended.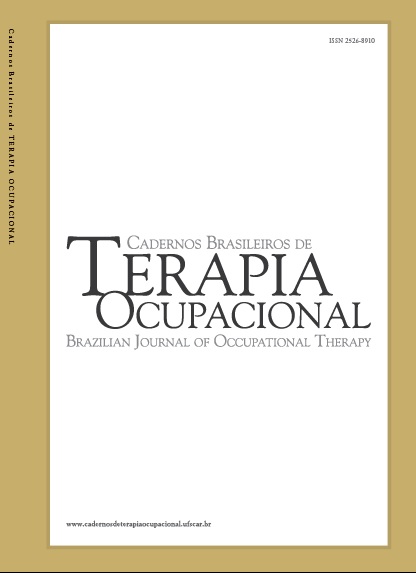 Downloads
Como Citar
Cezar da Cruz, D. M., Parkinson, S., da Silva Rodrigues, D., Couto de Melo Carrijo, D., Costa, J. D., Fachin-Martins, E., & Pfeifer, L. I. (2019). Cross-cultural adaptation, face validity and reliability of the Model of Human Occupation Screening Tool to Brazilian Portuguese/Adaptação transcultural, validade de face e confiabilidade do Instrumento de Identificação da Participação Ocupacional do Modelo de Ocupação Humana para o português do Brasil. Cadernos Brasileiros De Terapia Ocupacional, 27(4), 691–702. https://doi.org/10.4322/2526-8910.ctoAO2007
Licença
Copyright (c) 2019 Cadernos Brasileiros de Terapia Ocupacional
Este trabalho está licenciado sob uma licença
Creative Commons Attribution 4.0 International License
.
O periódico Cadernos Brasileiros de Terapia Ocupacional/Brazilian Journal of Occupational Therapy é publicado conforme o modelo de Acesso Aberto e optante dos termos da licença Creative Commons Attribution (CC-BY), disponível em http://creativecommons.org/licenses/by/4.0/.