How is resilience conceptualized and operationalized in occupational science and occupational therapy literature? Protocol for a scoping review
Resumo
Introduction: Resilience is a commonly discussed term describing the ability to overcome, adapt to, or cope with stressful/disruptive events. Although researchers and practitioners define resilience in diverse ways—e.g., psychological or disaster resilience—the concept fundamentally encompasses perseverance when faced with adversity. As experts in the interplay between individuals, communities, environments, and occupations, occupational scientists and occupational therapists (OTs) have great potential to understand and enable resilience, with some similar concepts appearing in occupational theories (e.g., occupational adaptation). However, there has yet to be a published review on resilience in occupational science (OS) and occupational therapy (OT) literature. Objective: In this scoping review, we will explore how resilience is conceptualized and operationalized in the OS and OT research literature. Method: Guided by Joanna Briggs Institute methodology for scoping reviews, we will search four library databases for relevant records along with selected OT databases and reference lists of included literature. Two team members will screen each retrieved record for inclusion, with vote discrepancies settled by a third person. We will include English-language literature published anytime which 1) includes the word root 'resilien*' and 2) is occupation focused, according to our criteria (published in OS/OT periodical, co-authored by OT or occupational scientist, and/or included OTs as study population/focus). We will report key information of included records, e.g., publication date/location, methodology, and resilience theories included. Implications: Our study will be useful for clinicians and researchers looking for occupational conceptualizations of resilience. From a social justice perspective, this review may highlight evidence that engagement in meaningful occupations can foster resilience among marginalized communities.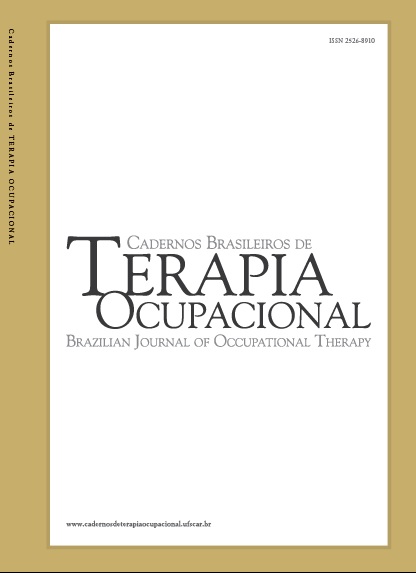 Downloads
Como Citar
Turner, J., Miller, W. C., Reid, H., Moecke, D. M. P., Crosbie, S., Kamurasi, I., Girt, M., Peter, M., Petlitsyna, P., Friesen, M., Towle, J., Knox, A., Winter, A., & Camp, P. (2022). How is resilience conceptualized and operationalized in occupational science and occupational therapy literature? Protocol for a scoping review. Cadernos Brasileiros De Terapia Ocupacional, 30(spe), e3105. Recuperado de https://www.cadernosdeterapiaocupacional.ufscar.br/index.php/cadernos/article/view/3105
Seção
Artigo de Revisão e/ou Atualização de Literatura
Licença
Copyright (c) 2022 Cadernos Brasileiros de Terapia Ocupacional
Este trabalho está licenciado sob uma licença
Creative Commons Attribution 4.0 International License
.
O periódico Cadernos Brasileiros de Terapia Ocupacional/Brazilian Journal of Occupational Therapy é publicado conforme o modelo de Acesso Aberto e optante dos termos da licença Creative Commons Attribution (CC-BY), disponível em http://creativecommons.org/licenses/by/4.0/.